Promotional Items
Dog Gone Walking offers solutions to help you achieve your goals and objectives.  Ilene brings her marketing background to the table in the creation or fulfillment of programs utilizing unique items for your personal or professional parties, events or ongoing programs.  Dog Gone Walking promises exceptional customer service and great value.
We are happy to work with existing artwork or develop something brand new just for you.
Schools and Non-Profits, please ask Ilene about our incredible programs created just for you.  Our philosophy includes giving back and we thrive on contributing to your success.  There's Always Something To Wag About, we make sure of it.
#1 Go Orange For Animals Campaign
Objective: To raise money, supplies and awareness for the plight of homeless animals in the Philadelphia region piggybacking off of the ASPCA national campaign.
Solution: Multi-faceted campaign that created media buzz with press releases for new educational programs, flyers and signs highlighting adoptable companion animals, kids being kind to animals and learning about safety.  Design orange "B Aware" shirts to sell for $10 with all proceeds donated while also designating "Go Orange For Animals Day" day with local businesses and schools tying into our fundraising lunches, bake sales and shelter supplies drives.
#2 Peace For Puppies
Objective: Raise awareness about puppy mills and overcrowding in our nations shelters, encourage children to volunteer, and raise money for shelters and rescue groups.
Solution: Dog Gone Walking created a line of apparel including stylish t-shirts, tank tops and sweatshirts in a variety of colors for ladies, children, and men.  Long sleeve shirts coming in the fall of 2010.  Custom pencils were designed and also temporary tattoos for giveaways and low price point items.  Proceeds from the sale of the products will all be donated to shelters and rescue groups while wearing the shirts raises awareness and encourages conversation about the organization.
Outlet for sale of shirts created through:
Local Schools: educational programs were held at local schools where we distributed order forms for Peace For Puppies apparel and promoted upcoming events tied into a shelter supplies drive.
Local Businesses: The Bark Avenue Boutique located in the Ardmore Farmers Market and Skirt located in Wayne feature Peace For Puppies apparel and donate all proceeds.
Events: Peace For Puppies Bowling Benefit at Wynnewood Lanes, Presence at Bryn Mawr Farmers Market, Philadelphia Adoption Events, Charity Dog Walks, Local School Fun Fairs and more.
New opportunities will include partnering with other non-profits and schools to co-brand the shirts and raise awareness together.  We will be your fundraising partner, please contact us if you'd like to participate.
#3 Penn Wynne Elementary School
Objective: Home & School Association wanted a fun inexpensive gift as giveaway with attendance to the annual Fun Fair that would add value for attendees and create school spirit to carry them through the summer and back again in the fall.
Solution: Custom Penn Wynne School sport sacks created by Dog Gone Walking were extremely well received by all.  Children loved their surprise gift and the Home & School Association was thrilled that Dog Gone Walking saved them $1,000.
#4 The Bark Avenue Boutique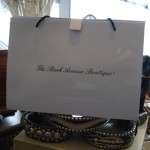 Objective: Design and source memorable packaging befitting the style and caliber of products Donna Marie carries at her Ardmore boutique.
Solution: Custom elegant carriers in three different sizes were created especially for them.  Imprinted on both sides with the new sophisticated logo design to provide reach, name recognition, and top of mind awareness for customers, other shoppers, and the fortunate gift recipients.  You don't want to throw these away.


#5 The Sarge Fund
Objective: Create something tangible to help raise awareness, funds, and inspire people to get involved.  Donations to "The Sarge Fund" enable PAWS to provide affordable and accessible animal health care services (including spay/neuter) to Philadelphia's pet owners, to promote responsible dog ownership, and to celebrate dogs identified as pit bulls. This proactive, community-based approach will reduce the number of unwanted and stray animals pouring into shelters.
Solution: Create a brand "Team Sarge" in honor of Sarge's 16th birthday that appeals to a vast age range and demographic which draws you in to learn more and grips you to lend your support.  Custom illustration logo of Sarge created by Jeff Bowling of Uncomn Creative for initial use on our blue ringer t-shirt and a light blue solid t-shirt for children.  Net proceeds from the sale of the created apparel will go to the "Sarge Fund."  Shirts were sold at Sarge's party, the PAWS Mutt Strut, shared with Best Friends, The Animal Farm Foundation and will soon be available for purchase online.
About Sarge:
Sarge is a 16 year-old pit bull who was rescued in 2008 from an animal cruelty case in Philadelphia. After spending 14 years with a person who abused animals, he was adopted by a family in Philadelphia and quickly became the city's most beloved "Elderbull." Sarge is now a Certified Therapy Dog with Pals for Life (
www.palsforlife.org
) and visits nursing homes, hospitals, and schools to spread cheer to people in need. In 2010, Mayor Michael Nutter presented him with the "Humane Educator of the Year" award for his service to the City of Philadelphia, and the Animal Farm Foundation gave Sarge an "Achievement Award" for paving the way for dogs identified as pit bulls to be treated as individuals. As a testament to his handsome looks and amazing talents, Sarge won the "2010 Philadelphia Barking Beauty Pageant" – the first pit bull to win the crown! He lives with five other dogs (all adopted from shelters), including his girlfriend Mary Todd Lincoln (a 10-year-old pug) and his sister Martha Washington (a 9-year-old pit bull). When he's not busy winning hearts and opening minds, Sarge enjoys dancing (he loves to Salsa!), eating cream cheese, snoozing on his geriatric doggie bed, and attending happy hours around Philadelphia. Sarge's adventures are documented on his blog, "Elderbulls," at 
www.elderbulls.blogspot.com
.
#6 Party Favors
Objective: Create unique party favors to tie in with your event theme.
Solution: Custom apparel, decor, and more…created just for you.  Contact Ilene to discuss your event and together we'll come up for some fabulous ideas within your budget.

Why Go Pro?
Sniff out the benefits of insured, bonded
Professional Pet Care.
Learn more >