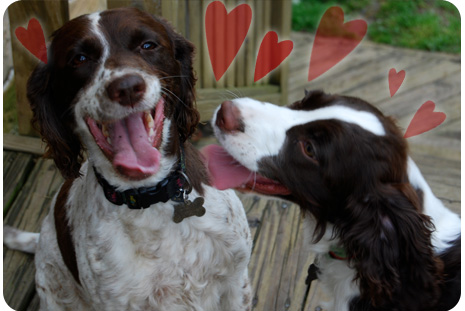 People We Like
ASPCA
American Society For The Prevention of Cruelty to Animals works to rescue animals from abuse, pass humane laws and share resources with shelters nationwide. Learn more about what they do, and join the fight today! I encourage you to join the advocacy brigade. It is free and you will be alerted via email when you can lend your voice to encourage the passing of laws to uphold the humane treatment of animals.
Pals For Life
Pals For Life is a non-profit organization that has been providing pet visitation and humane education programs throughout the Delaware Valley since 1985. The Pals For Life mission is to have pets and people help each other to live happier, healthier and more fulfilled lives. Volunteers with their pets visit hospitals, nursing homes, schools, and libraries.
Providence Animal Shelter

Providence Animal Shelter is located in Media, PA and are dedicated to intervention and prevention policies that protect and improve the health and welfare of companion animals and support the people who care for them. Beginning July, 2012 they will be re-dedicating themselves to that mission by becoming a life-saving organization, striving to save as many lives as possible by devoting resources to adoption, prevention of animal cruelty and overpopulation, and education promoting responsible pet ownership. Low cost veterinary services are available on site as well as many wonderful animals for adoption.
PAWS
Dedicated to saving Philadelphia's homeless, abandoned, and unwanted animals, PAWS is Philadelphia's largest rescue organization and only no kill shelter, and is working to make Philadelphia a city in which every healthy and treatable pet is guaranteed a home. Through its adoption locations, wellness clinic that offers low-cost basic services, special events, and foster care network, PAWS finds loving homes for thousands of animals each year.
Main Line Animal Rescue
In addition to leading the fight against puppy mills Main Line Animal Rescue works to raise the public's awareness of the plight of homeless animals as well as realizing the benefits of adopting an animal in need. There animals are examined, vaccinated, spayed or neutered and receive any and all medical treatment before they are placed in carefully screened homes.
Susan Rosetti
Dog Behaviorist Susan Rosetti works with your dogs natural drives and instincts in your own environment and offers fun solutions to serious and not so serious problems.
Petfinder
Looking for a new addition to your family? This is a place to start. Petfinder is where shelters and resuce groups list animals available for adoption. Dog Gone Walking is also happy to assist you in finding the right addition to your family.
Humane Society of the United States
The nation's largest and most effective animal protection organization. Established in 1954, The HSUS seeks a humane and sustainable world for all animals—a world that will also benefit people. HSUS is America's mainstream force against cruelty, exploitation and neglect, as well as the most trusted voice extolling the human-animal bond dedicated to celebrating animals and confronting cruelty.
The Philly Dog
ThePhillyDog is your essential guide to owning a dog in Philadelphia! Information on local dog events, fundraisers, services, dog friendly retailers, product reviews, contests and prizes!
Cesar's Way Puppy Development And Tips
http://www.cesarsway.com/articles/Cesar's%20Tips/657?cat=2
I believe in setting yourself and your pet up for success. Part of being prepared is educating yourself and having an understanding of the different stages of development from puppyhood on up. This is a simple, easy to understand guide with training tips for us humans.

Why Go Pro?
Sniff out the benefits of insured, bonded
Professional Pet Care.
Learn more >